Travel Insurance II. – Which one to choose? 🧳
In our previous article, we defined what travel insurance is, and we contemplated whether or not you need it in Hungary. If you have decided to get one, you'll still need to choose one. And that is exactly where GRANTIS and its international consultant team come into play! We will show you what kind of questions you will need to answer if you want an ideal policy, and also a few ways to knock off a few thousand forints off of your bill - for example with a European Health Insurance Card.
Írta: Noel Erdene
publikálva: 2022. November 04.
frissítve: 2022. November 09.
Olvasási idő: 5 minutes
💉 Travel insurance with the European Health Insurance Card 🚆
It is worth getting a European Health Insurance Card (EHIC). Still, baggage insurance or dental care are only covered by travel insurance. EHIC primarily covers essential services and solutions to many frequent issues you might face that are simply not included in the policy.
With a health insurance card, you will be treated in public health institutions in the country. In some states, health care may be partly or entirely self-financed, thereby it is only covered by travel insurance.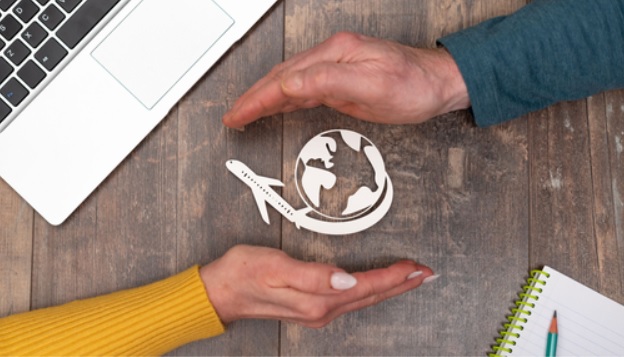 The following countries accept EHIC:
Member states of the EU: Austria, Belgium, Bulgaria, Croatia, Republic of Cyprus, Czech Republic, Denmark, Estonia, Finland, France, Germany, Greece, Hungary, Ireland, Italy, Latvia, Lithuania, Luxembourg, Malta, Netherlands, Poland, Portugal, Romania, Slovakia, Slovenia, Spain and Sweden.
Member states of the EEA: Iceland, Liechtenstein & Norway
Switzerland
Serbia – bilateral agreement between governments permits usage of emergency services without any further charges.
How to apply for an EHIC in Hungary?
You can apply for a European Health Insurance Card at these governmental contact points:
The websites are in Hungarian, but you can either use Google's automatic translation on the site itself, or you can ask for assistance from one of our colleague's during your travel or health insurance consultation.
For your application, you will need to fill out a form provided by the Hungarian Government, that you can reach here.
What kind of benefits are included in the EHIC insurance?
The services are based on medical reasons: the Member State of residence has to provide assistance under the legislation of that Member State in order to avoid the insured person being obliged to return to his or her Member State before the end of the intended stay. Judging this is always a medical question, that has to be decided by healthcare professionals. The basis of this judgment has to be impartial, without any political or economical consideration taken into place.
What does not the EHIC insurance cover? Do I need travel or health insurance?
As mentioned above if your medical issue is "just" an inconvenience, many providers might just turn you away. It is always based on the Member States' own laws and medical practitioners. Meaning many health issues are not covered. 
And even if your problem is covered by the EHIC there is the question of waiting lists and equipment.
In many EU and EEA countries, there are overburdened healthcare systems, where the necessary treatments are provided – but there might be significant waiting lists. The other fact is that in many hospitals all around Europe the equipment is simply outdated.
Meanwhile, if you have travel insurance or private health insurance, the coverage is crystal clear, and there are many more sources for the provider to get state-of-the-art equipment. Medical procedures and machines are constantly renewed and re-designed, meaning that you can greatly benefit from a modernized, top-of-the-line network!
How to choose travel insurance? How to get one? 🚞
You can get travel insurance directly from the providers like Allianz & Generali, or use independent consulting companies like GRANTIS to find the ideal product for your exact circumstances. There are the previously mentioned specialized packages, while there are also services that are dependent on a whole variety of factors. Choosing an independent broker like us, completely free of charge, is the easiest and most straightforward way to acquire a truly suitable policy for your stay.
To narrow down the list of suitable policies, our consultant may ask:
What is the purpose of your travel?
There are special packages for student exchange programs, extreme sports, and even religious pilgrimages. These packages include tailor-made services like helicopter rescue for skiers or roadside assistance for motorists.
Where are you going to travel?
Naturally, there are places on the globe that are more dangerous, like some parts of South America, or places where healthcare is expensive, like Singapore. And then there is the US of A, which has both of these attributes. All of these circumstances are factored in when the insurance provider gives an offer.
How many of you will travel together?
Traveling in a group is not only safer, but it can easily have a lower price per capita compared to individual policies.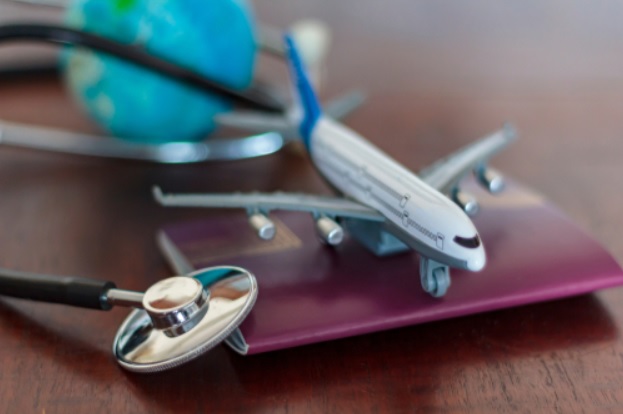 What will you use to travel?
When traveling by car it is prudent to include some kind of mechanic service in the policy, while if you travel by air, missing luggage protection is almost a must.
All this information serves the purpose to find you the ideal policy. We are independent brokers, so we do not prioritize one provider over the other. We will give you the ideal choices, and you can choose from them.
How can I report a claim? 📑
If you fall ill or have an accident abroad, you should call the assistance service of the insurance company. Once registered, the assistance service will also guarantee payment to the medical institution that treated us and then pay on our behalf.
If you pay your own medical expenses without an assistance service, the insurance company will reimburse you after you have returned home and presented the original bills.
Which travel insurance is the best? How can GRANTIS help? 👨‍💼👩‍💼
Having even the most basic travel insurance can easily alleviate most of the stress that might come with traveling abroad. Even if you have a high risk tolerance, it might just be prudent to spend a thousand forint per day per capita to have the backing of proper assistance services abroad. If you have any questions, do not hesitate to call or write to GRANTIS, we are here to help.
---
What is travel insurance?
Travel Insurance is a service package that can provide you with the necessary (or in some cases even cosmetic) medical procedures
---
How to get travel insurance?
You can get the EHIC coverage and any other public health insurance coverage (based on bilateral agreements with you country of origin) at governmental contact points such as a Kormányablak, Kormányhivatal, or NEAK office. In case of trave and private health insurance you can directly go to an insurer like Allianz or AXA, or you can work with an independent consultant company like GRANTIS is. This way you will be able to screen the Hungarian market for a suitable option.
---
How much does travel insurance cost?
This depends on: the country you travel to and the services that you want to include in your package, and the activities you might pursue there. It can be said that the most basic coverage starts from a few thousand forints in Hungary. If you are doing extreme sports or you want to travel to an extremely dangerous place you might not even get any coverage – or it can be very expensive.
---
How to buy travel insurance?
You can buy travel insurance straight from an insurance company, or you can get it from an independent consulting firm like us. The main benefit of working with us is that you will get the whole picture of the Hungarian insurance landscape, and you won't have to pay a dime for it!
---
What is covered in travel insurance?
Depends on the package you choose. The European Health Insurance Card only covers assistance if your treatment is a medical necessity – and this necessity would result in you travelling back to your member state. 
MIRŐL SZÓL?
Apply for a free consultation with one of our English-speaking financial advisors!
By giving your information and some basic background about your situation and financial goals we can start our initial research for an ideal solution for you. We are here to help!
Apply for a free consultation with one of our English-speaking financial advisors!
By giving your information and some basic background about your situation and financial goals we can start our initial research for an ideal solution for you. We are here to help!
Ez is érdekelhet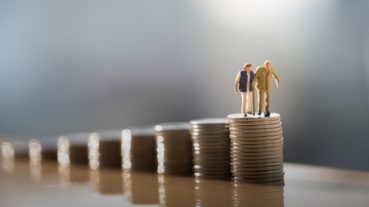 The Pension System and Voluntary Pension Funds in Hungary 💹
How much money does the Hungarian National System provide on its own 💸 The retirement age in Hungary currently is 65 At this age - generally speaking - you will receive 65-70% of your current monthly income This means that if you are earning a net 500 000 HUF today, you will receive 350 000 HUF to cover all your expenses But because of the reasons that we will mention shortly, many experts expect a decrease to a 45-55% rate or a sharp increase in the retirement age To get 100% of your current income, you will need to have...
Írta: Noel Erdene
publikálva: 2022. November 15.
frissítve: 2022. November 16.
Olvasási idő: 7 minutes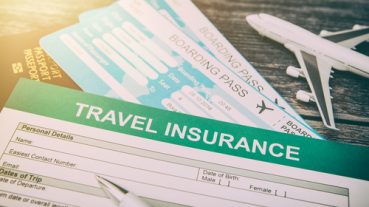 Travel Insurance I. – What is a Travel Insurance? Do you need it? 🛫
What is travel insurance Why do you need it 🧳 There are numerous well-known risks connected to flying & staying abroad Many of us experience hardships when encountering a lost baggage situation, or a missed flight And while these circumstances are usually covered in travel insurance, the biggest positive of the whole product line is that you don't need to worry about health coverage and expenses Nobody expects illness and accidents, but when they happen healthcare assistance truly can be invaluable How much is...
Írta: Noel Erdene
publikálva: 2022. October 28.
frissítve: 2022. November 02.
Olvasási idő: 4 minutes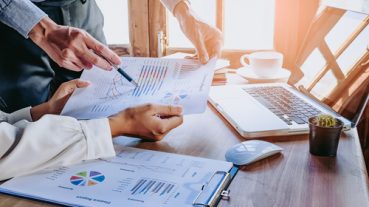 Corporate Solutions II. – Insurance, Loans & Credit Counselling 🧮
The first two services that we discussed in Part One are those that a company can consider as part of the employee benefits package Part Two of our series focuses on available loans and credit schemes, and different types of insurance - for the corporation itself Let's get right into it! 💹 Loan & Credit Counselling (Corporate Finance) 👨‍💻 As a company, you can apply for a wide variety of loans from state-subsidized products to purely market-based solutions provided by commercial banks Choosing the right one can...
Írta: Noel Erdene
publikálva: 2022. October 26.
frissítve: 2022. October 27.
Olvasási idő: 6 minutes